The Brussels Croquet Club at Genval invites you to try croquet in our beautiful lakeside setting - free of charge or obligation to join.
Then, if interested, you can become a club member (see page "contact").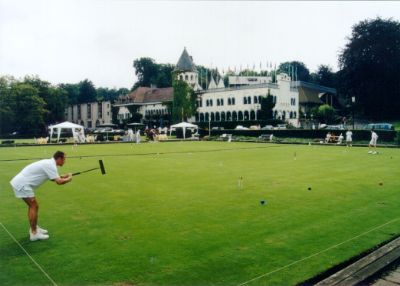 Where?
Our lawn is on the lakeside immediately in front of the hotel Château du Lac at Genval, just 20 Km southeast of Brussels off the E411 to Luxembourg.
How?
Contact us by phone at +32477775163 or by email at rigaclaire#gmail.com in order to obtain an appointment. We will provide all necessary equipment.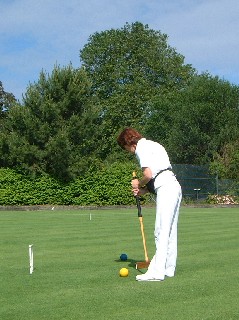 Clothing?
All you need to start with is a pair of flat-soled shoes (shoes with heels can damage the lawn). Most trainers or tennis shoes are suitable. Club members wear white but this is not necessary while you are trying the game.
More information on croquet?
More information on the game of croquet, equipment, rules and recent results can be found on the following websites: - The Croquet Association "www.croquet.org.uk". - Oxford Croquet "www.oxfordcroquet.com".